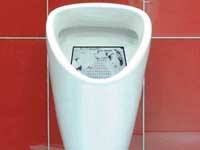 Pictured here is the "On Target" urinal from Marcel Neundorfer.
In an effort to improve male customers aim and subsequently the overall hygiene in the restroom this high tech interactive urinal was developed. It has a screen inside that responds interactively to the pressure of a liquid stream, displaying different sounds and pictures depending on how accurate the user is.
This is a definite improvement from the normal made up peeing games you might have had while using a public urinal, but in my mind still does not beat the Great American High Wiz my neighbors would perform from their rooftop when we were all kids.