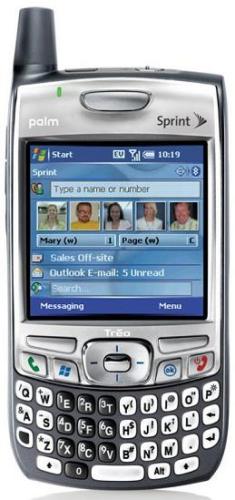 Palm has released a new version of the Treo, or at least I think it's a new version. It looks a lot like the old version to me, but it has an 'x' on the end of the name.
One thing that is different for sure, is that you can get this new version through Sprint Nextell instead of the Verizon, which is where you can get the version without the 'x'.
This new version does have at least one new feature, which is an EvDO high speed connection so that you can use the Treo 700wx as a modem for laptops through a USB connection. It also has double RAM of the 700w, but I think that is it.
Don't get me wrong, this Treo 700w and Treo 700wx are both awesome smart devices. The both have the Windows Pocket PC OS, 1.3 megapixel camera, blue tooth, SD card expansion, Windows Mobile Messaging, 60 MB of user storage, the quick qwerty keyboard and a 240×240 display.
One think I don't like about the Treo 700wx and the Treo 700w is that there is no WiFi. Is there just no room? If they added that, the Treo would be unstoppable in my opinion, but all in all I think this is one of the best business tools on the market.