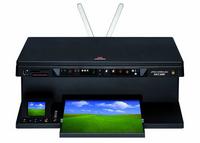 Olivetti, an Italian manufacturer of computers, printers and other business machines featured its new line of printers at the 2006 IFA in Berlin, September 1-6. The ANY_WAY plus, the SIMPLE_WAY and the portable photo printer MY_WAY plus complete this new line of printers featuring Bluetooth and Wi-Fi features.
A quick breakdown of the printer models uncovers some impressive features:
ANY_WAY: The multi-functional colored photo printer, with printing, copying (even without a PC) and scanning functions.
LCD picture display measuring 2.4″ and has 65,000 colors.
Improved printing speed. 20 pages per minute b/w and 18 colored pages per minute and only 75 seconds for a 10×15 photo printing.
Image improving software helps revitalize old pictures.
ANY_WAY has a Magic Button which analyses the photo and automatically selects the correct color, light and contrast modifications.
The photo fax model includes a fax machine, operating in black and white or color, for use as a standalone or via PC.
Bluetooth and Wi-Fi connectivity is combined in the photo wireless plus model.
SIMPLE_WAY: The multifunction color printer with a new and compact design
Printing, copying (even without PC) and scanning functions and can be selected in three different versions – simple, Bluetooth and wifi.
Features a printing speed that can reach up to 20 pages per minute b/w and 18 colored pages per minute, while 75 seconds are enough for a 10×15 photographic print.
It prints directly from the camera via Pictbridge, in four colors, giving the choice of substituting the black cartridge with the photographic one, in order to be able to print in 6 colors.
It is possible to improve images, even old photos, through simple software functions.
MY_WAY plus: is the portable photo printer which may be used anywhere.
It prints from digital cameras with direct connection via Pictbridge, plus via wireless or Bluetooth, from mobile phones.
It may be powered through batteries or with an in-car cigarette lighter.
Compact footprint of (220x162x90 mm) and light (1.6 Kg) and it has a 2400 x 1200 dpi (up to 4800 dpi) resolution.
LCD display: 2,4″ with 65,000 colors.
Improve images through simple software functions or by pressing the Magic Button (see ANY_WAY).
Press Release [Olivetti]