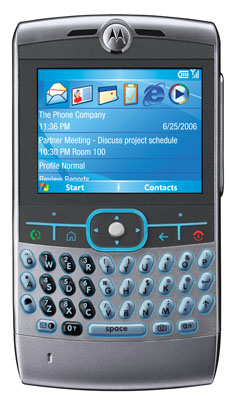 Motorola has gone anorexic with the Moto Q SmartPhone. This is a super thin lightweight smart phone that was slightly spread out when it was flattened to allow for a full QWERTY keyboard and a thumb wheel for easy navigation.
The Moto Q runs on Microsoft Windows Mobile 5.0 with full email integration to sync up all your messages. It has connectivity via Bluetooth and a mini USB connection and works with a variety of Motorola Bluetooth headsets. I also see infrared and 3G internet as wireless ports to the world, but I'm not seeing WiFi. If you are in a city I don't think this will be a problem, but WiFi is nice to have. Hopefully you are not roaming too close to nowhere either, since analog roaming isn't making the list.
The Motorola Moto Q has a 1.3 Megapixel camera, and nice 320×240 display and a quality speaker phone and speech recognition features, coupled with a rich phone book to use with it's integrated email capabilities. You can also enjoy your multimedia with music, pictures and video with all the common formats of each.
For me, the feature set of the Moto Q is nice, but nothing stands out above the rest. What does stand out (or doesn't stand out) is it's size. There is no denying that this smartphone is thin.
If you are not caught up in the details of a particular feature and want the thinnest, sharpest looking QWERTY device with a slightly better than average feature set, then the Moto Q is your dog.
MOTO INFO [Motorola Worldwide]
Mobile Phones, Moto Q, Motorola, Q