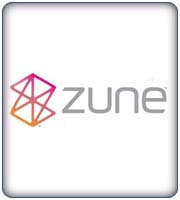 Microsoft recently announced the most information yet on its upcoming Zune digital music player and service. The latest information focused on the Zune's capabilities that let users share music with friends. The Zune can store and display video and pictures, comes with a 3-inch liquid-crystal display screen, a 30-GB hard drive, FM tuner, and will be available in three different colors: black, white, and brown.
Microsoft also plans to debut the Zune Marketplace into the Zune ecosystem. The Zune Marketplace is an online music store where customers can import existing music, pictures and videos in many popular formats and purchase millions of songs. The service will offer the standard features such as genre browsing, top songs, albums, artists, new releases, and featured items. Microsoft will also offer Zune Pass, which is an online subscription that allows users to download unlimited songs for a flat rate. Zune Marketplace will directly compete with existing Microsoft partners such as Napster and Rhapsody.
Microsoft is hoping to set Zune apart from Apple's iPod. Time will tell if Microsoft's Zune Marketplace, WiFi, and music sharing will be enough to make inroads into Apple's hefty domination of the market. The Zune is expected to be available in time for the holiday season.
Zune Marketplace [Microsoft]
Media Players, Microsoft, Services, Zune, Zune Marketplace