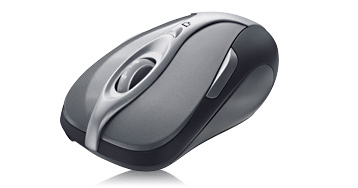 Microsoft has a new multipurpose mouse on the market for those doing digital presentations often, whether it be on the road in in the meeting room. It's called the Notebook Mouse, and is a slide presenter, laster pointer and a media remote control all in one. Oh yeah, and it works as a mouse as well.
The Microsoft Notebook mouse is wireless and will operate for up to 30 feet away from it's receiver. It connects wirelessly with 2.4 Ghz Bluetooth and has a led battery life indicator so there will be no unexpected power losses during a presentation.
The additional controls are tucked away on the under belly of the mouse and include a button in the center to navigate through slide presentations, some media control buttons to control a presentation or other digital entertainment from just like a regular remote control, and has a button for a laser pointer to be able to point to your presentation projection or chart on the wall.
Some other cool features of the new Notebook Mouse:
Digital ink for highlighting information on the screen.
An on and off switch so you can actually turn the device off to conserve battery.
4-way scrolling with a tilt will.
A protective carrying case.
An Instant Viewer tool so you can display all the open windows on your desktop and select the one you want. This is very handy when doing presentations in front of a lot of people so you are not fumbling around looking for the application you wanted to use.
Customizable buttons so that you can program the buttons to perform the most common functions you do.
bluetooth mouse, Microsoft, mouse, notebook mouse, wireless mouse