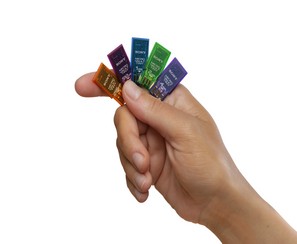 The Sony Micro Vault with Virtual Expander is a flash memory device with a USB 2.0 compatible interface. They are tiny little devices with memory ranges from 256MB up to 2G. (Early press releases state memory up to 4G but I was unable to find any Micro Vault's that actually have 4G for sale anywhere.)
They come in a handfull of different flashy colors and you can also get a small carrying case that hooks on a keychain or on to a notebook with a clip.
The Virtual Expander software is utility that compresses and decompresses data that is placed on the device, sometimes to as little as 1/3 it's original size. This makes a 2G drive potentially able to hold 6G of compressed data.
Tiny USB drive gadgets like this are extremely handy to carry data with you, such as any spreadsheets or your resume, a source code library for developers that travel or contract, and music and other media such as pictures that you would like share with friends are relatives.
This one allows a large amount of data to be stored in a very small amount of physical space (provided you don't lose it due to it's extremely small size). The case and keychain connection might be a good idea for this one.
Sony Micro Vault [Sony Global]