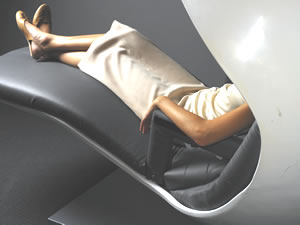 After a long lunch at my favorite Chinese buffet I can always use a nice powernap. Unfortunately, in my office naps are generally frowned upon – until now. MetroNaps is a New York-based company that provides mid-day rest facilities: a clean, comfortable place to take a nap. MetroNaps was founded the premise that many employees spend significant amounts of their day dozing at their desk or catching powernaps, often in odd places.
The MetroNaps concept began in 2003 through research and testing at Carnegie Mellon University. MetroNaps developed a process and facility to aid in maximizing the rejuvenating effects of a quick nap. The MetroNaps Method and the MetroNaps Pod may just provide you with the quick recharge needed to do more with your day, both professionally and personally.
MetroNaps opened its first location in the Empire State Building in May 2004 and plans to expand through its three core services: store locations, corporate installations, and portable MetroNaps pod installations.