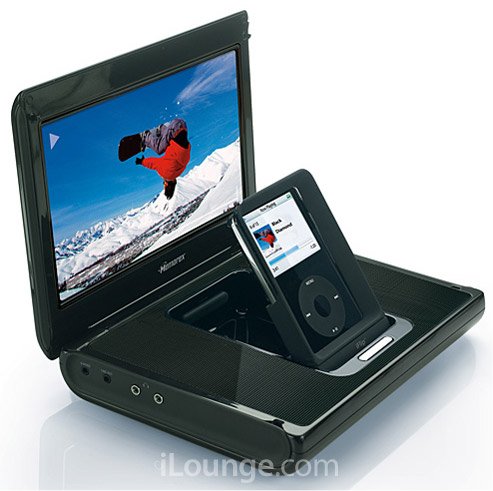 Being able to watch movies on your iPod video is awesome, but sometimes it's nice to be able to watch those movies on a little bigger screen, or if you want to entertain more than one person at once, the small screen on the iPod is sometimes difficult for two people to watch at the same time.
The Memorex iFlip allows you to take the video on your iPod from a 2.5″ screen up to the 8.4″ screen on the iFlip. The resolution stays the same, which looks incredible on the iPod, but can be a little bit "pixelated" on the iFlip, but it does give you the wide screen aspect ratio.
The Memorex iFlip is portable and can run up to 5 hours on it's battery, which is great for watching on a plane or on the road, and has a 75 degree horizontal viewing angel so people sitting beside each other can all have a pretty good picture. There are dual headphone jacks and a S-Video output jack to go to other external devices.
To connect the iFlip to your iPod, there is a small plastic bay that the iPod slides into and snaps down so that it is actually inside the iFlip player when it is running. This is nice so that you don't have to have the iPod sitting beside it or on top of it hooked with wires. It makes it a single compact device that closes down like a notebook computer for storage.
iFlip [Memorex]