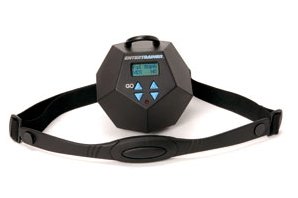 This Entertrainer is somewhat of a motivational exercise gadget for working out at home. This little decagon shaped device has two basic functions.
The first function is as a heart rate monitor. It wirelessly tracks your heart rate from an included strap you wear around your torso. The second function is a wireless remote to your TV or other entertainment that uses a wireless remote and has a volume.
You set up the Entertrainer with your own age, gender, length of workout and what type of workout you want to do. The gadget will then calculate a target heart rate for you.
The idea for this is as you exercise you must keep your heart rate up in order to keep the TV volume up, or whatever you are watching or listening to. If you start to slack off, the volume goes down. If you can lip read or have close caption I guess you are just going to stay fat.
Home Page [TheEntertrainer.com]
entertrainer, exercise, weight loss