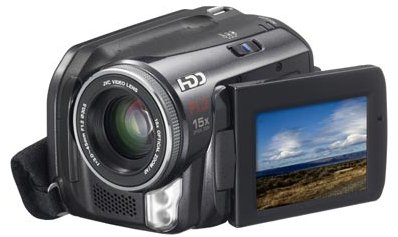 I think JVC has reached a mile marker here with the media for digital video recording. I remember my dad with a camcorder that took the full size VHS tapes (he still uses it), and then they went to the smaller tapes so the camera could have a smaller profile and you could still get a decent amount of recording time.
After tapes there was some time there were it could have went anywhere. The most popular seemed to be using flash memory or lately using small DVD's that were burned inside the camcorder on the fly. Both of these options were good, but I think the JVC Everio G series camcorders (GZ-MG50 pictured) have gotten it figured out.
The Everio camcorders do not have a tape or a DVD disc spinning inside them. They have a hard drive that can be up to 30 GB at this point, and with the new advances in portable drives for 2.5″, this is only going to get better with the 1.8″ drive that this camera has, too. With the 30 GB drive in the Everio, you can record from 7 to 37 hours of continuous video, depending on which of 4 quality settings you wish to record at. You can add an SD card for additional flash memory as well.
There does seem to be a downside to that slick hard drive, and as you might expect it's the battery life. Even though you can get 7 hours of video on the hard drive, you can only seem to get 40-50 minutes of life out of the battery. If you plan on recording over an hour of footage at a time, it would be a good idea to get the extended life battery option, or two.
The JVC Everio is loaded with the features you would find on most camcorders today, including USB transfers to your PC, software for video editing, and 1.33 Megapixel CCD. The hard drive doesn't contribute to the size of this camcorder, either. It's as small or even smaller than most tape or DVD recording camcorders at only .84 lbs (380 g for those of you eating Royale's With Cheese), and that's with the battery in it. It is also small enough that it fits easily into the palm of your hand.
GZ-MG50 [JVC America]