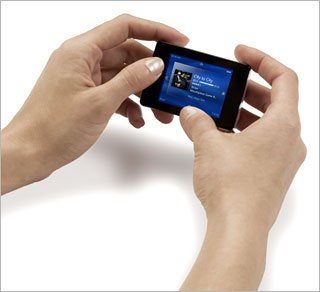 The iRiver clix is an awesome little multimedia player that has a very easy to use interface and is able to play music, videos, photos and text. You can use it to listen to the radio, as an alarm clock, it's small enough to hide in your hand and still has a 2.2″ viewing screen.
It has 2G of storage, which lately is a little on the lite side with similar devices, but aside from that and needing to touch the screen a lot with your fingers (comes with a cleaning cloth), the iRiver Clix is a smooth gadget.
The Clix is compatible with the Windows Plays For Sure subscription service and transfers data with USB. The battery lasts up to 25 hours, which could last longer than your media and is quite the opposite compared to many similar media players with more memory than battery.
The Clix is only 2.7″ wide and .6″ thick, which makes it such an easy thing to carry around in your pocket.
You can get an optional cradle for the Clix which adds some cool extras like a wireless remote to run the interface without touching it, speakers, snooze button for the alarm clock and a line in. You can also get an armband made especially for the Clix and a custom FM transmitter to listen to your tunes on the radio in your car.
Clix [iRiver America]