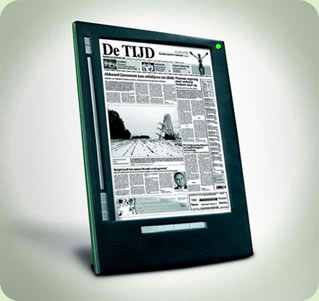 The iLiad is an electronic reader product from iRex Technologies. The iLiad allows you to read digital content with easy navigation based upon your personal reading behavior. In addition to reading, the iLiad allows you to write comments, mark or underline sections and comment within articles.
Weighing in at just under a pound (390 grams), the iLiad is a very lightweight and mobile device. The footprint of the iLiad is the size of an A5 document (folded letter sized document) with a screen large enough to accommodate most content. The iLiad has been designed for outdoor use including outdoor reading in full sunlight.
The iLiad operates on very low power requirements. You can read for approximately three hours a day for more than one week without recharging the battery.
Content can be delivered to the iLiad through many interfaces including:
USB type A connector for USB memory stick.
CF type II slot for memory extension or other applications.
MMC slot for MMC memory cards.
3.5mm stereo audio jack for headset.
WIFI 802.11g wireless LAN.
10/100MB wired LAN.
The content formats supported include: PDF, XHTML, TXT, APABI (China only), OEB, MP3, or optional customization to support specific content format.
Ebooks never really seemed to take off. I guess there just isn't anything that can replace the feel of a good page-turner in your hands. The iLiad certainly makes for an attractive alternative to the pulp we are all accustomed to. Now you bookworms can carry all the reading material you want on your next Odyssey.
iLiad [ iRexTechnologies]