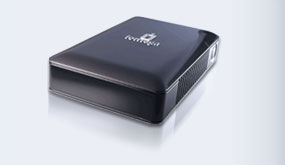 Iomega recently announced the availability of the new eSATA/USB 2.0 320 GB Desktop Hard Drive. This drive is specifically designed for those power users who want to close the gap between internal hard drives and the fastest external hard drives.
The new eSATA interface features three times the transfer rate of USB 2.0. This kind of performance makes this drive a viable option for any application, from video editing to super-fast backups. Iomega's eSATA drive gets its speed advantage by utilizing the same type of high-speed interface as an internal hard drive.
The drive ships with a eSATA PCI card and cable that can upgrade most PC motherboards to eSATA capability, giving existing computers the same high-speed interface that now appears on new high-end personal computers.
Users can easily add multiple Iomega eSATA drives by stacking or mounting the drivers vertically with the built-in drive stand. The enclosure is 30 percent smaller than that of other external hard drives freeing up some much-needed desk space.
The Iomega® Desktop Hard Drive eSATA/USB 2.0 320 GB is available now for an MSRP of $239.95. For those power users who are passionate about their need for speed, efficiency, and elegance; this is the drive for you.
320GB, external drive, hard drive, Iomega