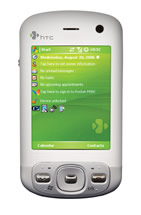 The HTC P3600 PDA Phone is another of 4 devices recently released from HTC to be available for the big shopping season coming in not too distant future, and no doubt this would make an excellent gadget gift.
This device is doing a little more towards targetting the multimedia buffs with 3G, and the ever growing popular Quad band GSM, EDGE, WiFi, Bluetooth and is HSDPA ready, which should be a little faster than 3G.
It has the Windows Mobile 5.0 OS with Outlook, IE, Media Player and all the features that come with the MS Mobile OS. The P3600 also includes a 2.0 mega-pixel camera with video.
If you are looking for a little more fun in your PDA, this device with the speedy internet, media player and camera allows a little more play in your business day.