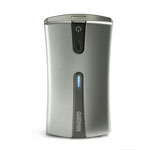 I can't imagine a trip without my trusty GPS at my side. The only problem with my GPS is that it is yet another device that I have to carry with me – until now. The Garmin Mobile 10 allows us urban outdoorsmen to add wireless navigation to our Bluetooth-enabled laptops, smartphones, and Pocket PCs or PDAs.
The GPS 10x receiver combines a high-sensitivity GPS receiver with Bluetooth technology in a very small, sleek footprint. The receiver is both portable and wearable allowing you to mount the GPS 10x in your car or clip it to your clothes for navigation by car or foot. The receiver has a respectable battery life of up to 20 hours of use.
The Garmin Mobile 10 package also includes all the software you need to begin navigating. The package comes with the Garmin Mobile XT and nRoute navigation software along with City Navigator NT detailed street maps. The system works by downloading the maps and navigation software to a data card for your mobile device or by installing the software off the DVD.
You can expect all the features you have grown accustomed to with your handheld GPS with features like searching for addresses and services, a points of interest database, voice-prompted turn-by-turn directions, saved routes and tracks, and automatic off-route recalculation.
The expected availability for the Garmin Mobile 10 is November 2006.
Garmin Mobile 10 [Garmin]