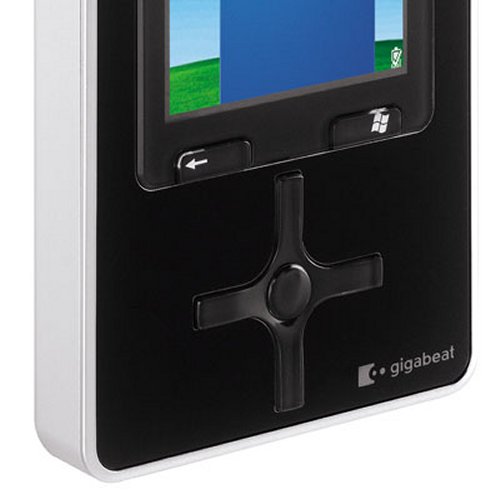 The Gigabeat web site alone makes me like this gadget. They have done a good job building a nice interactive Flash site, and of course it has music with an awesome beat, which brings us to the MES60VK Gigabeat multimedia device.
The Gigabeat MES60VK version from Toshiba has a 60GB drive to hold your music, video, TV shows, movies and pictures. You can transfer video through the Windows Media Player, buy movies for the Gigabeat at Vongo, and get music with Microsoft's Plays For Sure. Al of this is accessible to you through an easy to use navigation control and a 2.4 inch color panel. The only thing that would make this a little cooler is if you could record audio and/or video with it, but at least in this version you cannot.
The battery in the Gigabeat will allow you to play music up to 12 hours and video for 2 and a half without having to recharge, and you can hook up to your Xbox 306 with the Portable Media Center software that comes on the device. It's also set up to pick up FM when you want to catch the local radio.
Some cool Gigabeat accessories include a leather case, an FM transmitter and an armband and waste pack for when you are on the go.
Product site [Gigabeat]