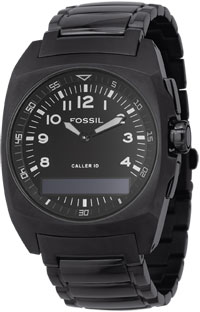 Sure, your watch can tell the time and date, but can it tell you who is calling on your cell phone? A new line of innovative timepieces from Fossil has been designed to do just that. The new watches will allow users to view incoming caller ID information on the watch face.
The Caller ID wristwatch will incorporate Bluetooth wireless technology and simplify how people interact with their mobile phones. The watches are also intended to make a cutting-edge fashion statement, yet be practical with serious functionality which allows users stay connected without compromising style.
The analog/digital watch links via Bluetooth to certain cellular phones allowing users to view incoming caller ID information on the watch face. No longer will you need to dig your phone out of your pocket or purse. The watch will allow users to quickly and discreetly see who is calling them and then decide whether to take the call or not. Although you can't answer a call with the watch, the watch vibrates to alert users to an incoming call, and a quick button press can send the call to voicemail.
The new watch is available in two different brands: FOSSIL and ABACUS. The FOSSIL branded product will be available exclusively in the United States at www.fossil.com. The FOSSIL will be priced at an MSRP of $250.00 USD and will be available in late October.
The ABACUS branded product is expected to be available in mid-October and are priced at an MSRP of $200.00 USD with a full list of retailers is available at www.abacuswatches.com.