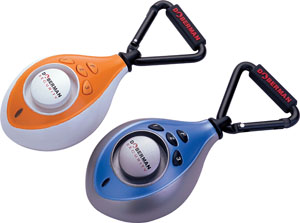 This security gadget is called the Doberman Bag Protector and is used as a security alarm to protect items from theft, such as a computer bag, backpack or anything else you hook it to.
The Doberman Bag Protector was recently featured on HGTV and is a small lightweight security device weighing only 105 grams, is only 9″ long, water resistant and comes in blue or orange.
The Bag Protector works by a dual triggered alarm. You set the alarm or deactivate it using the keypad on the front with a special code that you set. The Bag Protector alarm has a motion sensor that will sound if it is moved in any way for a predetermined number of seconds. The alarm will also occur if the pin is pulled that connects the alarm to the bag attachment.
The Doberman Bag Protector emits it's security alarm at 100 decibels but it's not necessarily the volume that makes it so noticeable as much as the type of alarm. A jet plane at 100 feet away is 130 dB, to give you a reference, but anyone who hears this alarm coming from whatever they are holding will definitely drop it immediately. There is no way to hide it.
The Doberman Bag Alarm is an effective and affordable gadget for protecting your stuff.
Bag Alarm [Doberman Products]