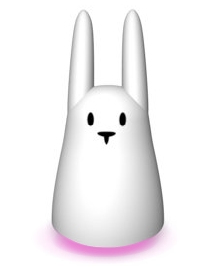 Ahhh, what could be more adorable than a little bunny that reads your email?
The Nabaztag is a very curious piece of technology appearing at this week's DEMOfall 2006 conference. DEMOfall is a showcase of the world's most promising new technologies and a sneak peek at the future of the technology business.
Nabaztag is the creation from French company Violet. Nabaztag is a 9 inch tall plastic white bunny that connects wirelessly to your home computer network. Some of the bunny's key features include:
Its ears can spin or move up or down to notify you of incoming e-mail or the rise and fall of stocks.
Read email or news headlines aloud by converting the text to speech.
Announce the current time or play songs from your digital music collection.
Issue a weather report by mean of color lights that glow from inside its belly.
Performs according to preferences configured on Violet's Web site.
Marry another rabbit and link up over the Internet and instigate some bunny love.
Nabaztag is available for $150 from select online retailers.