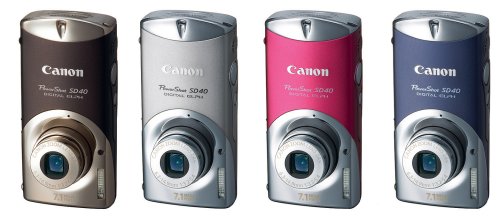 The new Powershot SD40 ELPH is the fashion end of the new line of cameras that have recently come out from Canon. This version of the ELPH is upgraded to 7.1 megapixel from it's 5.0 megapixel predecessor, the SD30.
It's slim and handy at less than an inch thick, looks sleek in 4 available styles and is easy to use. It has a 1.8 inch backlit LCD monitor and comes with a handy station that is used to charge the SD40 ELPH camera as well as to upload pictures through a USB connection or direct printing. It also comes with a remote control to run the camera options remotely.
Did you know that Canon had a camera museum?
Press Release [Canon]