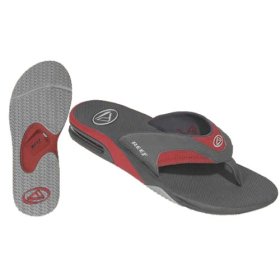 How many times have you been somewhere and gotten a bottle that's not a twist off when you don't have an opener?
I do not routinely carry an opener and I have been faced with this predicament many times. I would usually spend the next few minutes searching around the area for some fixture or hardware that even remotely resembles an opener and the whole time contemplating using my teeth against my better judgment.
Well, those days may be over with these new Men's Bottle Opener Sandals by Reef. These cool flip-flop style sandals have a handy bottle opener on the bottom of the sole that works perfectly for removing the cap from your bottle, even without having to take them off if it's your first or second.

If you are anything like me, you are probably wondering how well this really works. Won't the little area with the opener get clogged up with debris when I walk? Is that little tab really going to open the bottle?
I'm here to tell you from personal experience that it works. The area on the bottom of the sandal with the opener is small and open enough so that things generally are not able to lodge, and it is definitely the perfect size to easily open your favorite bottle.
Also, these sandals are pretty comfortable. They are made to go in water, and there is an airbag cushion in the heal for comfortable walking. If you are in the market for a new pair of flip-flops, you cannot go wrong with these.