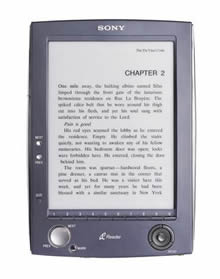 Sony has announced the release of its new eBook – the Sony Reader. Boasting a revolutionary screen that reads like paper, the Sony Reader comes in a very compact and lightweight design that you can take anywhere.
The screen is daylight-readable, high contrast, high resolution, and a boasts a near 180º viewing angle. In addition, the text can be magnified for sight-impaired readers.
The Reader measures 6.9″ x 4.9″ x .5″, making it smaller than many paperbacks. Weighing in at about 9 ounces, its light enough to travel with you everywhere you go. The rechargeable battery powers you through up to 7,500 page turns, so you're ready for that exciting page-turner, and can be recharged in 4 hours with the AC adapter.
You will be able to fit plenty of reading material with the 64MB of internal memory. There is a slot for optional removable memory cards which allows you to take many titles, web content, or other supported documents with you at all times.
So you don't leave your new Sony Reader empty, you can purchase and download eBook titles to your Reader via the Sony CONNECT store. Sony announced the release of CONNECT eBooks which will allow you to search, browse and discover thousands of popular electronic book titles.
Is the eBook making a comeback? Time will tell if Sony can save the eBook.
Sony Reader [Sony]