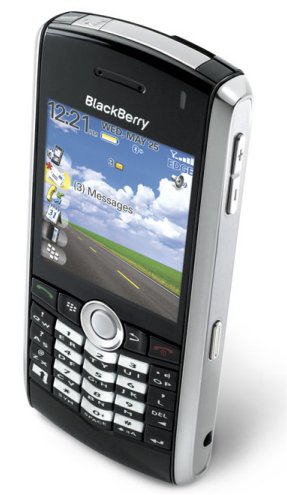 Research In Motion has come out with a new BlackBerry called the Pearl. The Black Pearl sounds familiar, but I cannot imagine pirating has anything to do with this.
Anyway, this smartphone is smaller than BlackBerry's previous devices, which have been just a little on the bulky side lately compared to similar gadgets, so I guess this was probably due. You can see by the photo that to shrink down the keyboard, there are two letters per button. It has a small "pearl like" trackball navigation that is supposed to set a new standard for a new generation of "ease of use" interfaces.
This ads another quad-band smart device to the list of recently released devices and this one is going exclusively to T-Mobile.
The BlackBerry Peral can handle 10 email accounts and 4 instant messaging (IM) networks with an internal mapping program (no GPS) and voice dialing. It has a 1.3 Megapixel camera with a flash, microSD expandable memory, and a 240×260 bright color display.
There is a fun side to the BlackBerry Pearl, where you can download wallpapers, ringtones, games and applications such as Sudoku. There are also some cool Pearl accessories coming out at the same time, which include a rubberized skin and a matching BlueTooth headset.