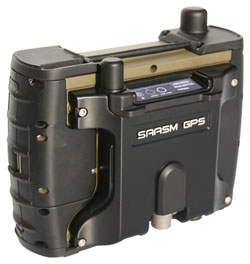 Black Diamond Advanced Technology has announced the launch of the SwitchBack-PC, the world's first rugged Ultra Mobile Personal Computer (UMPC). The SwitchBack-PC is designed to meet military requirements for shock, vibration, dust, moisture and extreme temperatures.
The SwitchBack-PC has a tidy footprint at 7.5″ x 5.5″ x 2″ and weighs in at a slender three pounds, yet packs the power of a traditional desktop into a portable, rugged, handheld solution.
The SwitchBack is designed to meet the demands of users working in the field or in harsh environments. The housing is magnesium reinforced with rubber isolators and shock-mounted electronics. Some of the other key features include:
The first rugged UMPC to have a built-in thumb keyboard.
Up to 60GB removable hard drive.
A 5.6-inch WSVGA sunlight-viewable touchscreen with stylus that can be can be viewed outdoors in all lighting conditions.
Bluetooth 2.0, WiFi b/g and GPS wireless capabilities.
The SwitchBack also accommodates upgrades nicely with Extendable Modules. The SwitchBack has a detachable/attachable Module on the back of the unit which can be used to extend functionality by adding additional hardware interfaces. Some of the current modules include:
Additional processor, hard drive or battery.
Custom I/O Options (data transfer, interface extensions).
Fingerprint reader
RFID, Barcode Scanner or Mag Stripe Reader
Radio(s), terrestrial
Digital camera
GPS receiver
Breathalyzer, Laser Range Finder
The SwitchBack-PCs are sure meet and exceed the unique demands of users working in harsh environments. SwitchBack-PCs available in the fourth quarter of 2006 direct from Balck Diamond and will initially be Windows XP systems only.
SwitchBack-PC Press Release [Black Diamond]