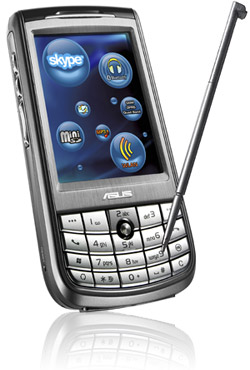 ASUS already has some pretty cool gadgets, and they've added another one to the 'cool' list.
Here they have come out with what they call a "Total Wireless Solution". It's a PDA phone with a nice color interactive display and an alpha numeric keypad as apposed to the qwerty keyboard that is often found on this type of device. The thing I like about the alpha numeric keypad is that I can do it with one hand, which for me seems pretty much impossible with the qwerty type.
Some functional features for the ASUS 525 include email with real-time sync with an MS Exchange Server, instant messaging, Skype In and Out, a 2M-pixel camera and business card recognition.
The business card recognition is something pretty cool for this gadget. You can take a picture with the camera, and the software on the ASUS P525 is able to do some character recognition on the photo along with some logic to import the business card data into your Outlook contact list.
There is a stylus for those who would rather tap the screen, and it has a littel 5-way joystick for navigating the menu system (again with one hand). The P525 also has Wi-Fi, GPRS and Bluetooth all built in and runs on the Microsoft Windows Mobile 5.0 OS, and should be plenty fast for what needed with an Intel 416MHz xScale Processor.