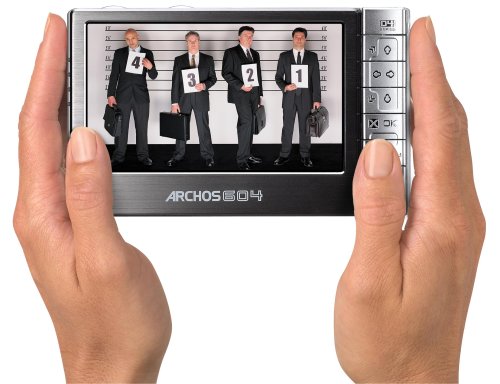 The Archos 604 is a portable multimedia player for all standard video formats in a full DVD resolution, including MPEG-4 ASP, WMV (and protected WMV) as well as MPEG-2 and VOB with a software plug in.
The Archos 604 has a 30G hard drive to store up to 130 hours of encoded video. The screen is a 4.3″ wide screen, which gives quite a bit more view that most portable video players out there. You can view them right on the screen, or output them to a full size television and still view them in DVD quality. Once uploaded you can use features to play the video, video editing and video bookmarking right on the player.
There is an optional DVR station for the Archos 604 that seems to almost be must to get all the benefits from this super thin player. You can record video straight from your video input device (cable, satellite, DVD, camcorder, etc) and store directly in an MPEG-4 format.
The Archos Video Player also works as an excellent photo wallet. Using a USB 2.0 connection you can download images from your PC or camera directly in most cases.
And the video gadget also works as a music player, of course. It plays all the standard digital music formats, including MP3, WAV and WMA files (protected ones, too). You can organize your music by album, artist, etc and create and manage playlists right on the device.
For people on the go the Archos 604 Multimedia Device is an awesome gadget for taking all your multimedia data on the road.
More Info [Archos]
Archos, ARCHOS 604, media player, pmp