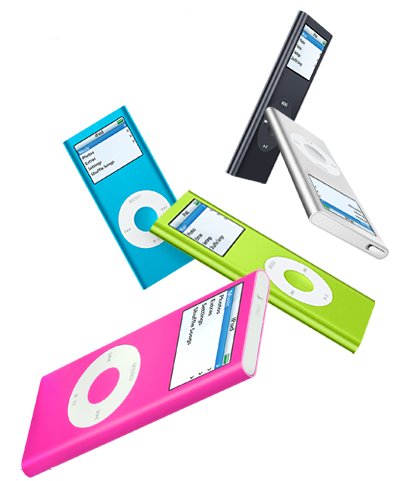 Apple has come out with its updated version of the iPod Nano that can hold up to 8GB of data. That's twice as much as the maximum size 4GB of the previous model. That means that the number of estimated songs it would hold doubles too, bringing it up to around 8,000.
The size of the new iPod nano is as small as ever but it has a slightly new design, with more rounded edges. The colors have expanded. Previously all that was available was the black or white. Now you can get bright colors in the new anodized aluminum frame with pink, green, silver, blue and black.
Along with the extended potential playlist also came an extended battery life. The batter in the new iPod nano will let you play music continuously for up to 24 hours, and will charge back to 80% of capacity in round 90 minutes. They have also increased the brightness of the display, which also makes it important for a longer battery life.
The same easy to use menu navigation and seamless integration to iTunes still apply, which certainly makes this continue to be one of the most popular digital music players on the market.
Press Release [Apple]