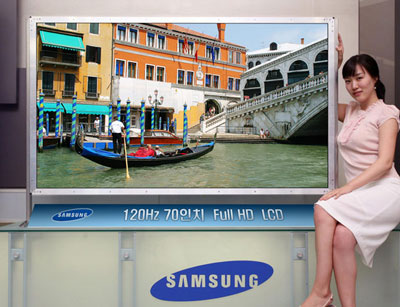 At 70 inches, this high-definition LCD display from Samsung is setting the record for largest LCD. The screen has a resolution of 1,920×1,080, which is powerful enough to qualify as a high-definition TV, but is not necessarily high for a screen of this size.
The Samsung screen is positioned towards the consumer HD-TV market. Samsung Vice President Kim Sang-Soo said, "Our new 70-inch LCD is not only significantly larger, but also sets a new benchmark of excellence in terms of video image reproduction, viewing angle and image quality. We've designed it to dramatically enhance the large screen LCD TV user's viewing experience. "
With the introduction of the 70″ LCD TV, Samsung will be in a position to compete head-to-head with PDP (plasma display panel) and projection TV makers.
Production of the new 70-inch LCD is scheduled to begin during the first half of 2007.
Samsung 70 inch LCD [Samsung]