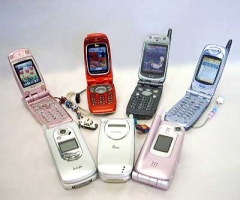 With all of the new mobile phone models coming out it's difficult to understand and keep a handle on what is happening with the technology.
Mobile phone features are ever-expanding, and the desired features are different for everyone. To make it a little simpler (and shorter), here is a list of things you might not want when choosing a mobile phone.
A phone you can't hold. Many new phones are coming out in all shapes and sizes. Flat, clam shell, sliding, ones with wide QWERTY keyboards, etc. Don't by a phone without trying it out in your hand. I like the one-hand test, personally. If I can't operate 90% of the features with one hand, I'm not interested in the phone.
Phones that won't hold a three day charge. Take inventory of your talk time and look for a phone that that has a battery that will last three days between charging. This is important for me if I go on a trip and forget the charger, or just forget to charge it for a couple days. For the average person's talk time, three days without a charge is not too much to ask.
Advanced feature coverage not in your area. It's too easy to find a mobile phone that has everything you want, but the service coverage is not in the places you typically use it. Even though you might get some coverage in most places, often the coverage for more advanced features are not in as many places. Check this out or you will have a phone with the features you want, but you just can't use them unless you go somewhere else.
No hands-free option. A speaker, hands free kit and voice commands are all things that every phone you look at should have at least one of. Many states in the US now do not let you have the phone up to your ear while driving, and these features save you from missing calls and let you keep both hands on the wheel and eyes on the road.
A mobile phone just for talking. If you buy a mobile phone and all it does is let you talk to other people, you've wasted your money. I certainly would not recommend buying phone with features you do not want or need and spend more than necessary, but if you are considering a phone that at least does not have custom ringtones, wallpaper, text messaging or something this common you are missing the boat. These features are common enough to everyone that almost every mobile phone has them, and would be willing to bet that you can find a mobile phone with at least one of those features for almost the same price as one with.