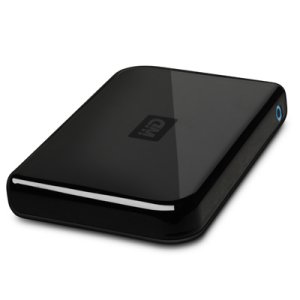 The Passport Portable Drive from Western Digital now comes in a larger 160GB capacity, but fortunately the new Scorpio notebook drive inside it has stayed the same physical size.
The sleek look of the Passport container for these 2.5″ drives has also improved by making them slightly smaller and lighter than previously. They have a sharp, hard and shiny looking black finish with a soft base and the total weight is under 5 ounces total! The Passport Portable is compatible with USB 2.0 for fast and easy data transfer to any USB 2.0 compatible device.
If you have a lot of data you like to keep and don't want to trust the flash memory alone for longer term storage, the Passport portable is an excellent source for easily and conveniently taking your large amount of data on the road, or even for a sleek and small back up device for photos, music, videos or data backups that doesn't take up a lot of room on your desk.
By being so small it can fit in clothing pockets or small areas in a notebook case and pack the data that previously would require a lot bulkier device. The Western Digital Passport Portable Drive is a very convenient and effective way to store your data without having to lug around a full-size hard drive.
Press Release [Western Digital]
160GB, Passport, portable drive, WD, Western Digital