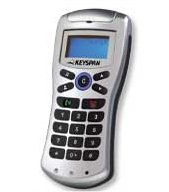 I have to say this is an improvement. This is a Skype compatible VoIP Phone from Keyspan. You can call PC to PC or PC to Phone, and do pretty much everything you need to with using Skype from the phone – except leave the room.
Skype was a big deal at the last eBay developers conference, and I asked one of the Skype reps (all of which had some fancy European type accents) about taking the phones away from the PC or Mac. You see, if you have never used this, up until now it only worked when you had the phone physically connected to the machine. This is nice if your sitting at your PC and you want to talk into a phone instead of trying to fumble with speakers and mic's and trying to master the full duplex through your PC speakers. Also, you take advantage of the VoIP technology instead of cell phone or long distance land line minutes.
The Skype representative informed me that soon there would be a mobile version coming out. When he said mobile, I took this to mean mobile like my cell phone, but I'm pretty sure now that this is what he was referring to. I think the word he was looking for was "cordless".
Either way, as I mentioned before this definitely is an improvement. You can now roam around your house, office, or whatever proximity your PC or Mac is in with this phone, much as you would a "cordless" phone in your home, but the not quite the range you would have with a "mobile" phone. And of course, you can take advantage of all that Skype has to offer.